Meet Our Team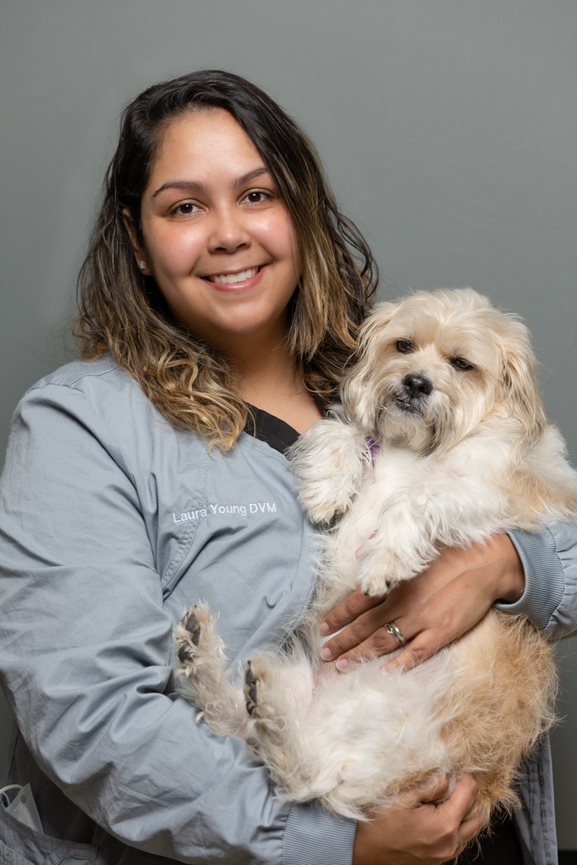 Dr. Laura Young
Dr. Laura Young is from beautiful Brazil where she got her start in veterinary medicine. She graduated from Federal University of Uberlândia in 2017 with a degree in Veterinary Medicine. She studied at Concord University in Athens, WV and at the University of Uberlândia in the small animals' clinic and in the operating room. She has been at Superior Veterinary Care for since 2017 and has cultivated a passion for internal medicine and client communication. Dr. Young loves to spend time with her rescue cat, Wade, and her German Shepherd mix Spud. Wade can be ornery sometimes, but he loves helping her make the bed. Spud really enjoys coming to work with her. In her spare time, she spends time with her husband Charlie watching movies and cooking, and when possible she goes back home to Brazil to visit her family.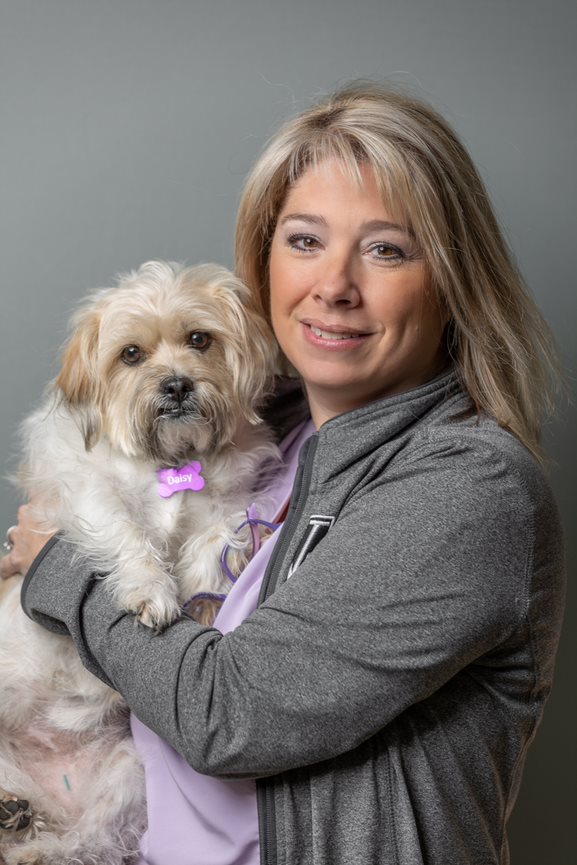 Tara Berry
Tara grew up in Ansley, Ne and moved to Lincoln to attend College. In her spare time, she volunteers her time with fostering and helping with a local rescue. Having always loved animals she always has a house full of furry friends and especially has a soft spot for the senior ones. She brings her rescue Frank to work with her daily and he has stolen the hearts of all the staff with his personality!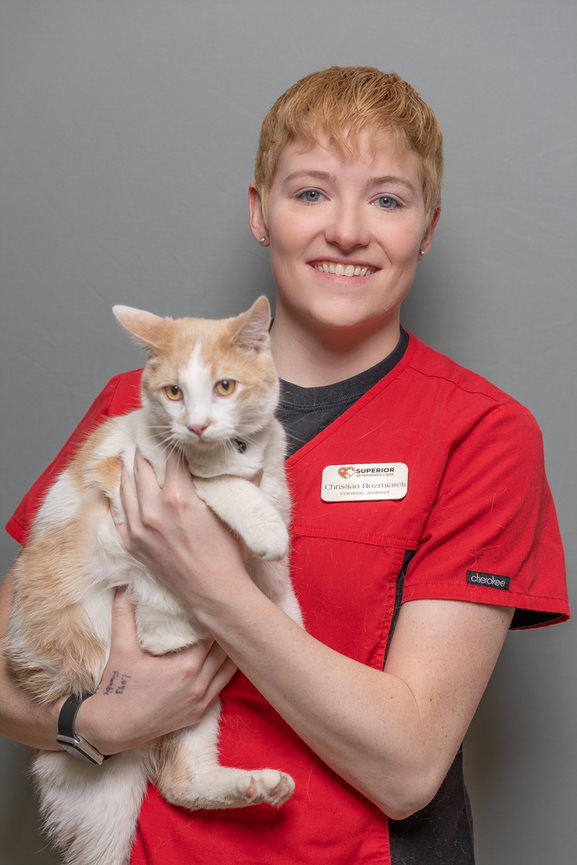 Christian Rozmiarek
Originally from the Nebraska Panhandle, Christian is one of our talented vet assistants. She may be a familiar face in the clinic, as she has been with our team for 3 and ½ years and has made this clinic her "home away from home." Christian's love for animals is evident in her calm, patient nature with even the most fearful and grumpy patients: she has earned her title of our "animal whisperer." Christian has always been an advocate for animals, choosing to spend her spare time helping with local rescues via fostering and advice. When she isn't spending time with patients in the clinic, she is home snuggling her two dogs, Cooper and Ollie, and her five cats: Murray, Monkey, Calvin, Hobbes and Walter.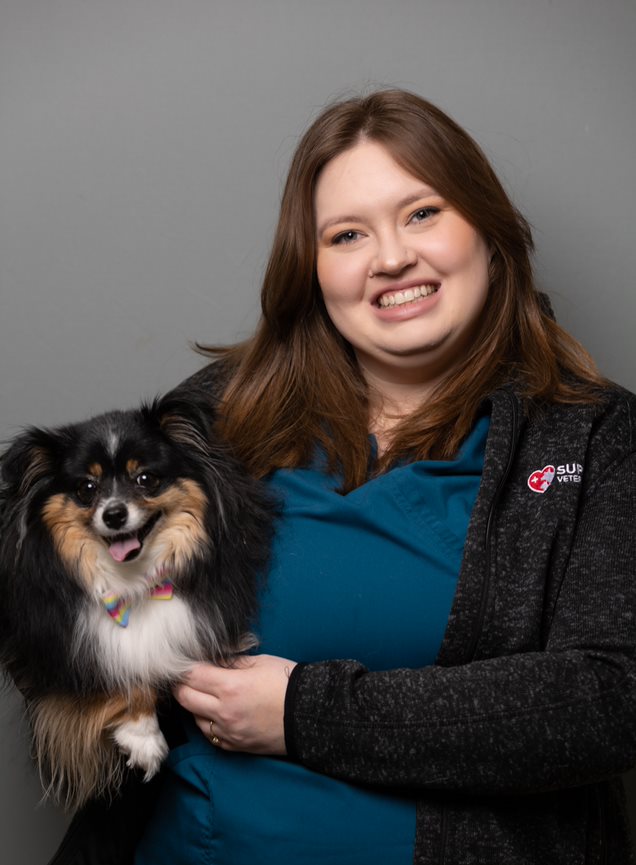 Erin Homan
Erin was born in Germany, growing as an Army brat, she considers herself from everywhere and no where. Because of moving so often, she was unable to have all of the pets that she wanted, so she resorted to a dog, cat, and guinea pig, along with an excessive collection of stuffed animals. Her parents are both from central Nebraska, and her love for animals came from spending time at her grandparents farm. Since graduating as a Vet Tech from NCTA in 2012, she has worked with a wide variety of animals, and explored the several different career paths for a vet tech. She has experience working at a University, in pharmaceuticals and traditional clinics, and has been with our clinic for 2 years. In her spare time she enjoys reading, crocheting, and spending time with her fiancé Jeremy, son Jonah and dogs Thea and Scout. You can regularly find Thea serving both people and animals as the clinics self proclaimed emotional support dog.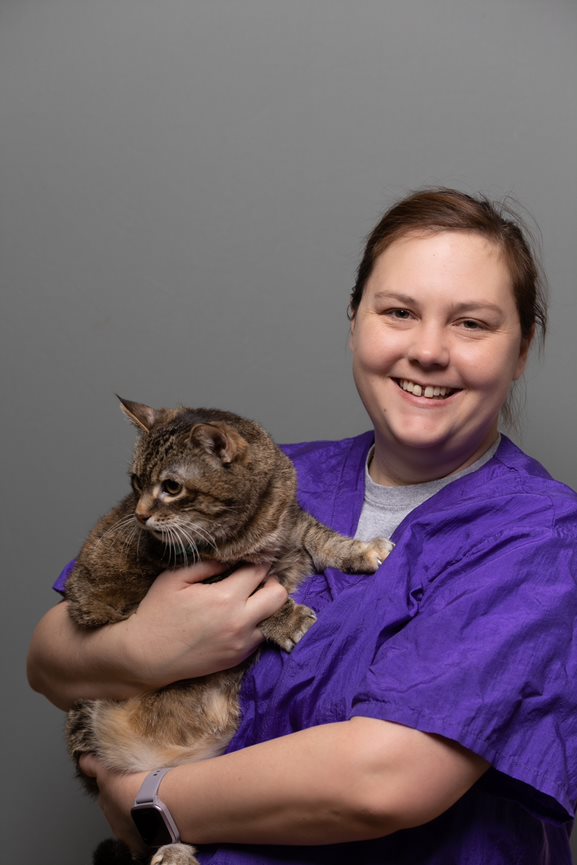 Dawn Van Arsdale
Dawn grew up in Ashland. Growing up they had all sorts of critters from fish to guinea pigs to dogs. She got her first dog bathing job while in high school. She has been a professional groomer since 2009. Dawn loves her job and it really shows in her work. She has been with her significant other Ken for 13 years and together they have a spoiled cat named B.B. In Dawn's free time she likes to hang out with family and friends and force B.B to snuggle her on the couch.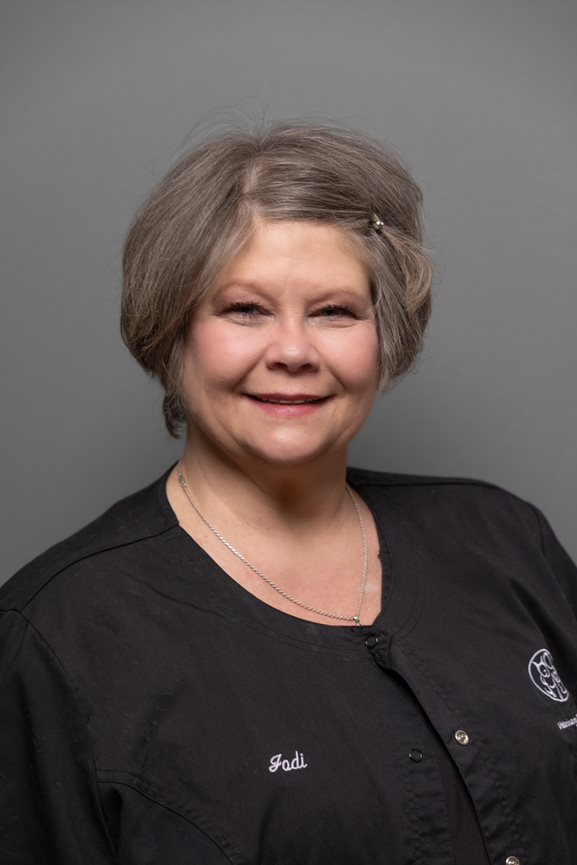 Jodi Benedict
Jodi is one of our client care specialists, she grew up in Columbus NE, married her high school sweetheart 33 years ago. She has 3 children, Rachel, Sara and Joelle and 2 dogs, Shadow a Cuban Havanese and Ginger a German Shepherd. Jodi enjoys crocheting, reading and travelling, especially seeing the mountains which reminds her how magnificent the creator of the universe is. She has a servant heart for helping people and animals, it is her passion.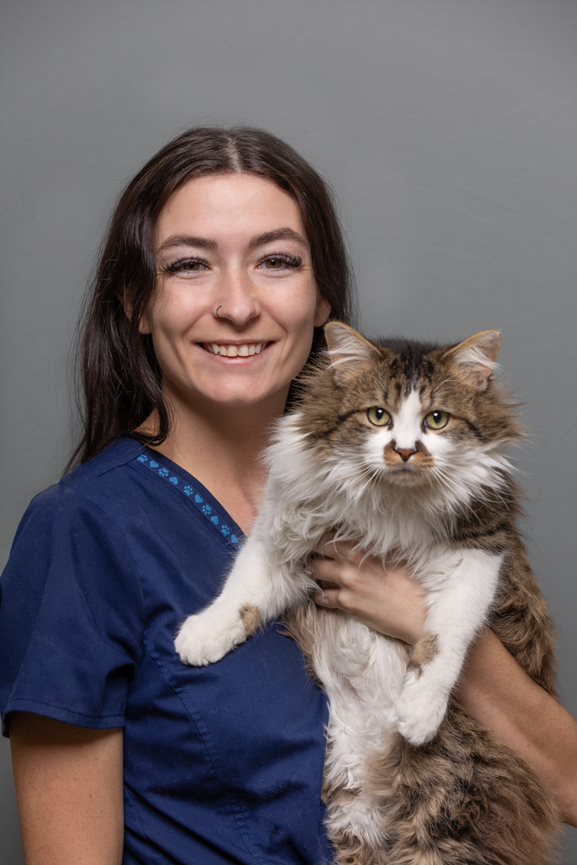 Samantha Smith
Samantha is one of client care specialists and veterinary assistants. She is from Omaha, but has lived in Lincoln for the past 5 years. Samantha graduated from UNL with a Bachelor's in Veterinary Science, with hopes of pursuing veterinary school in the near future. She has two cats here in Lincoln (Harley and Bonnie) and one dog (Gus) at her parent's house in Omaha. Outside of work, she enjoys spending time with friends and family, watching sports, and decoding Taylor Swift's plethora of cryptic messages.